Fundraising
Brian Brown Top Ten Candidates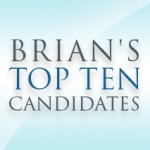 About Brian Brown Top Ten Candidates
Here's my candidate top ten list. These conservatives need our help now!
Have a different top ten list? Create a fundraising page and get out there and get money to your candidates!
SHOW YOUR SUPPORT
Donate Now

In a couple simple steps you can support this candidate.

Tweet It

In a few clicks you can help get your candidate elected.

Promote It

You can be a key player in getting your candidate elected!

Recruit Friends Now

Show strength in numbers by using the power of social media.